Congratulations to all the participants that joined us in Mount Pearl for the Mount Pearl Open! We had 57 participants across all of our categories.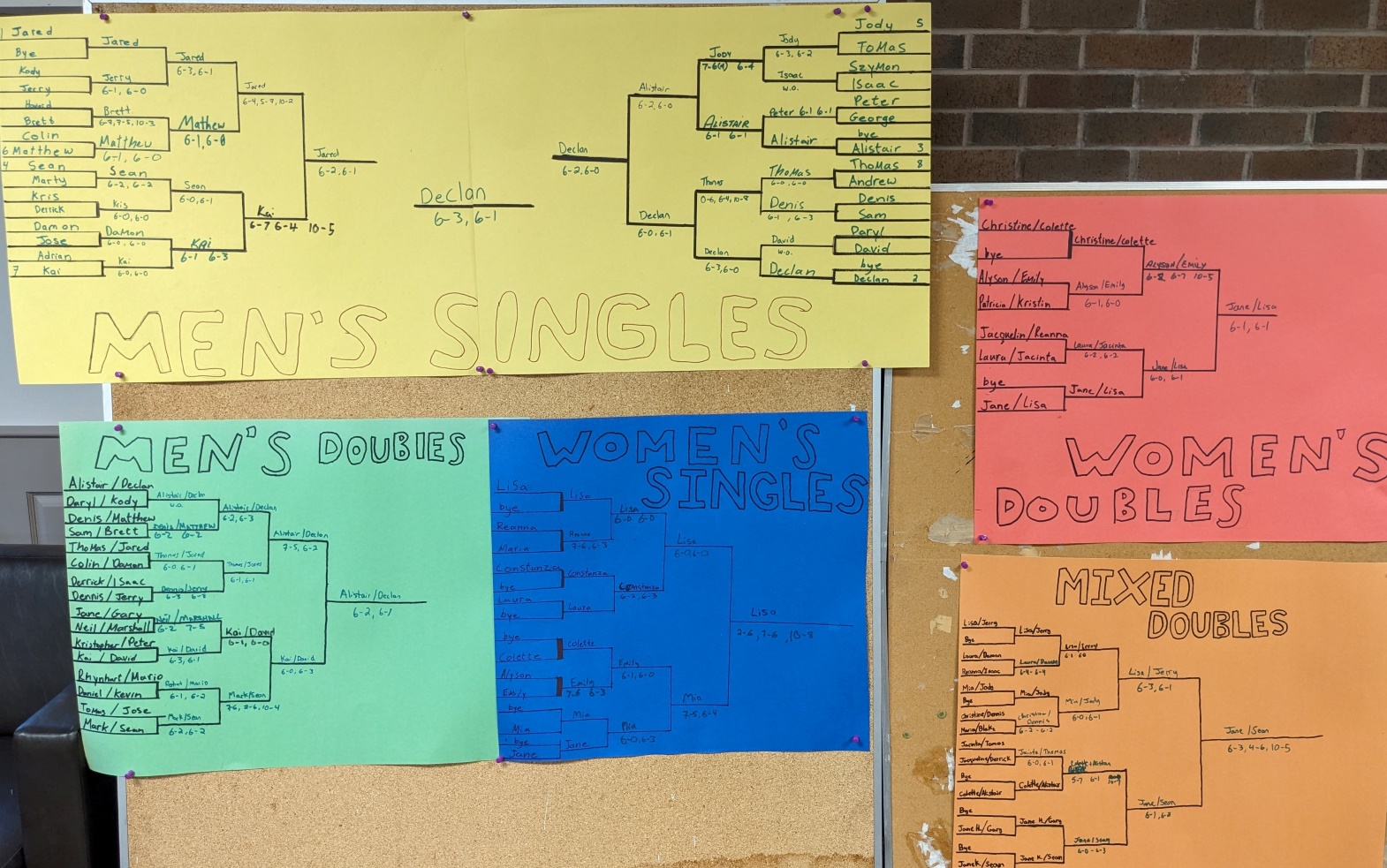 Congratulations to our winners in each of our categories:
Men's Singles: Declan Walsh with a 6-3, 6-1 victory over Jared Stokes
Women's Singles: Lisa Cook with a 2-6, 7-6, 10-8 victory over Mia Wade
Men's Doubles: Declan Walsh / Alistair Bath with a 6-2, 6-1 victory over Kai Stephenson and David Summers
Women's Doubles: Lisa Cook / Jane Kelsey with a 6-1, 6-1 victory over Alyson Byrne and Emily Godec
Mixed Doubles: Jane Kelsey / Sean Carroll with a 4-6, 6-3, 10-5 over Lisa Cook / Jerry Hoyles
And our consolation winners:
Men's Singles: Adrian Bradley
Women's Singles: Laura Bryant with a 8-2 victory over Alyson Byrne
Men's Doubles: Colin Martin / Damon Pitts with a 8-6 victory over Kris Connors and Peter O'Rielly
Women's Doubles: Christine Hand / Collett Phillips with a 8-5 victory over Jackie Penney and Reanna St. Croix
Mixed Doubles: Jane Henderson / Gary Hollett with a 8-6 victory over Reanna St. Croix / Isaac Batten
All participants earned points towards the TNL Open Series championship which will be awarded at the end of the season. You can learn more about the point system and prize money on our information page. You can see a snap shot of the current leaders on our rankings page.
Some memorable moments from our tournament include the longest match of the tournament between Brett Hoyles and Howard Sturge of 2 hours and 39 minutes in the first round of Men's singles. Brett prevailed with a 6-7, 7-5, 10-3 victory.
Lisa also played a marathon on Sunday, playing in five total matches: two semi finals and three finals. She managed to win two of those finals with a total court time of over 7 hours.
The next tournament in the series is the Riverdale Open. You can learn more about the tournament, and register on the Tennis Canada website.